b. 1978 Guildford, England.
Andrew has lived and worked in New York City since 1996, calling Brooklyn home since 1999. His work spans a wide spectrum of mediums from illustrations and paintings to toy design and sculptures. Much of his work is united by a sense of humor that often belies a more serious and sombre message… although some of it is just plain silly.
His work has been featured in solo and group gallery shows and exhibitions from LA to Paris, and has been featured in publications including as The New York Times, Newsweek and Wired.
Under the banner of Dead Zebra, Inc, Andrew has produced projects in association with companies such as Kidrobot, Google and Squishable.
EDUCATION
2000 : B.F.A. School of Visual Arts, New York, NY
PREVIOUSLY
Before focusing exclusively on his own work, Andrew spent several years freelancing for Marvel Comics and served as a senior designer in Nickelodeon's New York office for five years.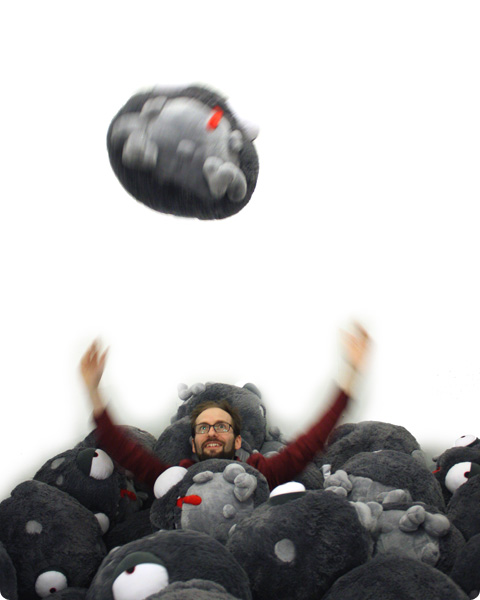 EXHIBITIONS
2014

"Factory Strangers"
The Stranger Factory
Albuquerque, NM

2013

"Odd Obst"
AdHocSpace
Vienna, Austria

2012

"The Great Escape"
The Stranger Factory
Albuquerque, NM

2011

"Love the End"
Rotofugi Gallery
Chicago, IL

2009

"It's What's Inside that Counts"
Rivet Gallery
Columbus, OH

2008

"Burning Desire"
Gallery 1988
Los Angeles, CA

2007

"Hot Curry!"
Rotofugi Gallery
Chicago, IL

2006

"The Problem With Reproduction"
193c
Brooklyn, NY

2005

"Don't Look At Me"
Kidrobot
New York, NY

2014

Back to Back Black Tour
New York Comic Con
Designer Con

2013

Artists @Google Talk
Google, Inc
Mountain View, CA

Signing
Sixxa Store
Vienna, Austria

Dunny Release & Drawing Party
Kidrobot
New York, NY

2012

Dunny Signing Tour
Kidrobot
San Francisco, CA
New York, NY

2011

STGCC Featured Guest
Singapore

I Love Munny
Speaker and Judge
Freakstore
Caracas, Venezuela

2010

Please Draw With Me
Kidrobot
New York, NY

Nouveaux Monstres
LiFE
Saint-Nazaire, France

2009

Nouveaux Monstres
Lille 3000
Lille, France

Nouveaux Monstres
EXIT Festival
Paris, France

2008

Kidrobot 15 Release
Kidrobot
New York, NY & Chicago, IL

Kidrobot Opening
Kidrobot
New York, NY

2007

"Beyond Ultraman"
Pasadena Museum of California Art
Pasadena, CA