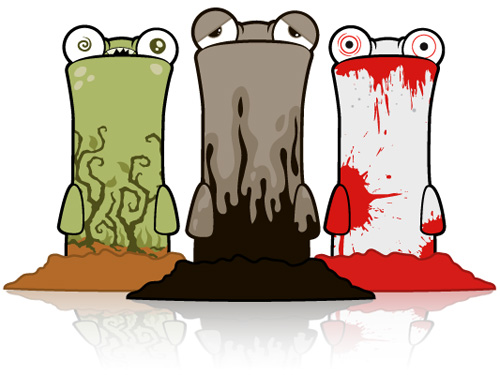 YEAR
2006
SIZE
3″ – 6″ tall
MEDIUM
Vinyl
EDITIONS
100-600
After almost two years of development, ZLIKS set a new bar for interactivity and flexibility in designer toys. Their heads, bodies, eyes and bases are all interchangeable between a total of 9 different editions. While many are displayed as-is, we've even seen some mounted to walls, hanging from ceilings, or emerging from floors. Several 19″ resin editions were produced for the highly successful 2007 "Attack of the Zliks" art exhibition.
Each set includes three heads, two bodies, three bases and features poseable eyes, arms and neck joints.

This species of ZLIKS thrive in highly polluted environments previously believed to be entirely uninhabitable. OIL ZLIKS are found primarily in and around industrial oil spills.
Standard Oil Zliks
It's Too Late Oil Zliks
Ice Oil Zliks
EDITION
100
EXCLUSIVE
Octane 3
Natural ZLIKS prefer more traditional environments and can often be found among leaves on a forest floor, or peeking out from fresh piles of cow dung in a rolling meadow.
Standard Natural Zliks
Wandering Sky Natural Zliks
Sepia Natural Zliks
EDITION
100
EXCLUSIVE
Wheaty Wheat

The most dangerous subspecies of ZLIKS, the so-called "Psycho" possess a rare and unfortunate genetic disorder linked to the sudden unquenchable desire for blood and murder.
Standard Psycho Zliks
Die in the Dark Psycho Zliks
Dead Zebra Psycho Zliks
EDITION
100
EXCLUSIVE
Dead Zebra Inc
???