It's that time of year again, in just over a week I set up shop in San Diego at the 2016 International Comic Con!  Find me along with my dumb pal R Stevens, at "Dumbrella"  booth #1335 July 20th-24th. We'll have all this and much more!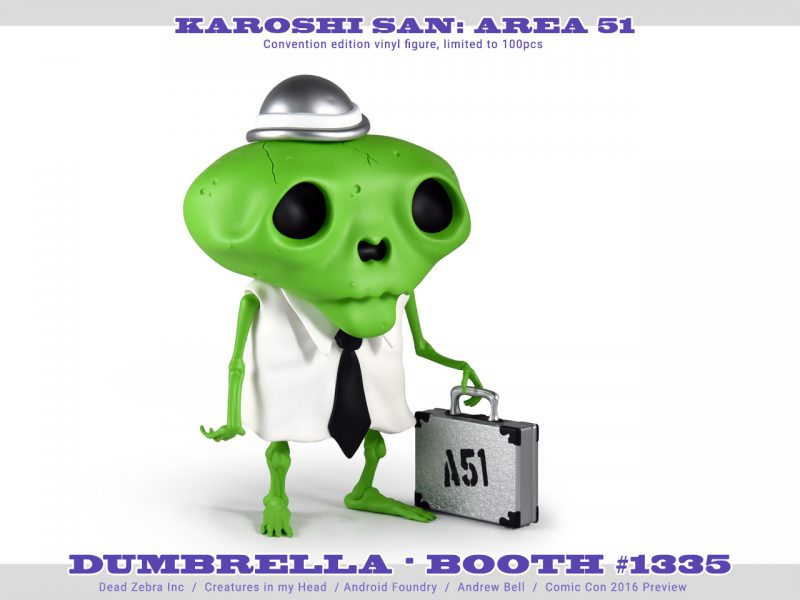 Karoshi San: Area 51 Edition! Limited to only 100pcs each with a numbered certificate, this 7″ tall green government lab escapee can only be spotted at conventions (where he can walk freely and people just assume he's in costume). Limited quantity available, $65.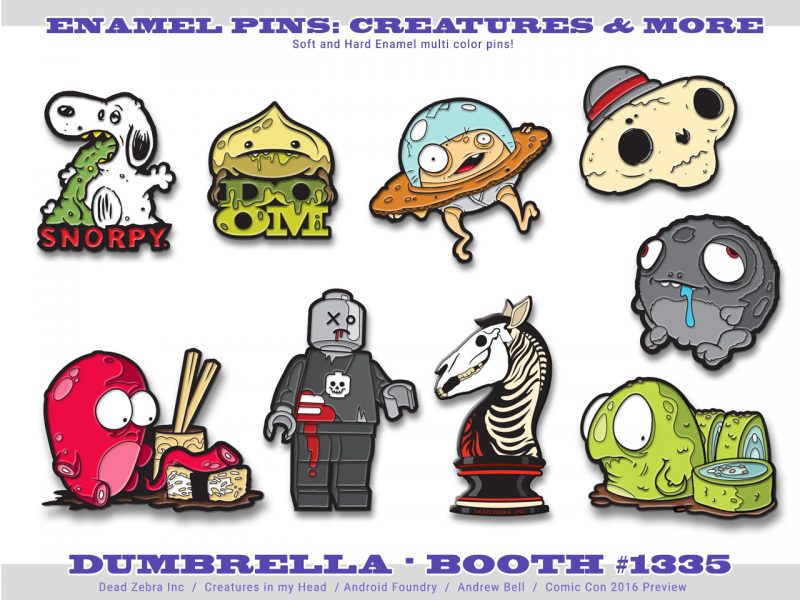 I heard you guys liked pins.. so I finally made some pins! I've got a whole lineup of brand new soft and hard enamel pins including O-No Sushi, Worrible, Dumpling of Doom and more! Each is packed on a backer card, available for $10 each with bundle deals extra savings!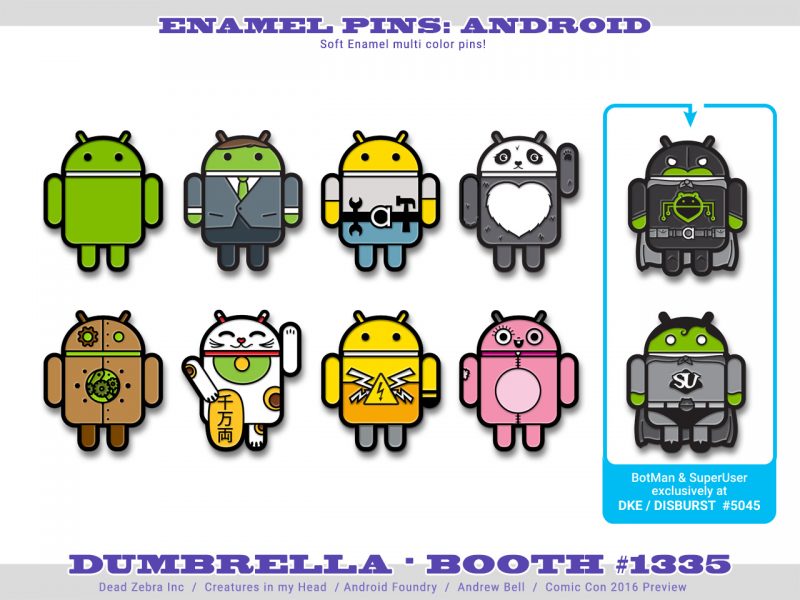 Oh and of course I made some Android pins featuring some classic designs to go along with those! Standard Green, Buisness Man, Construction, Panda, Copperbot, Lucky Cat, Hi-Voltage and Pinkey are all available at our booth #1335, and stop by our distributor booth at DISBURST / DKE #5045 to find BotMan and SuperUser!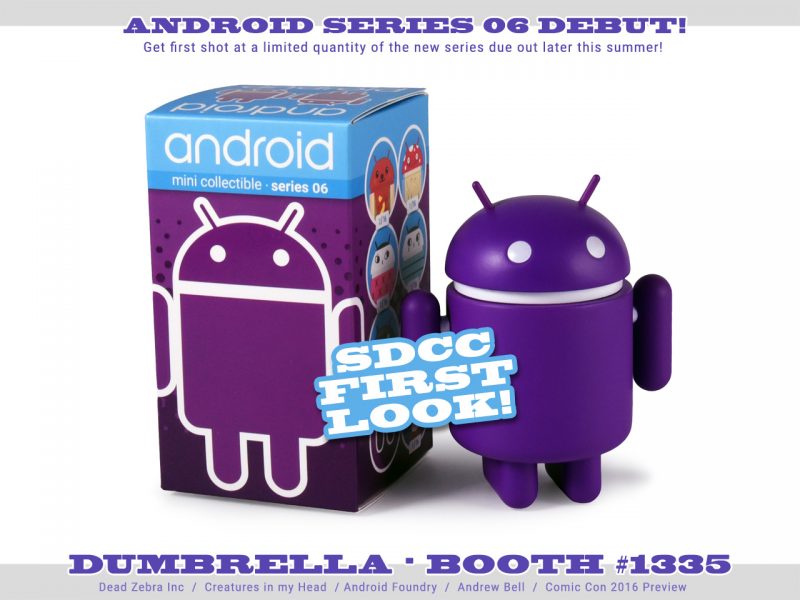 Speaking of Androids.. Visitors to #1335 get first look at and first crack at, Android Mini Collectible Series 06! We'll have a few cases on hand for those lucky attendees to pick up early, with the series appearing at retailers starting in August.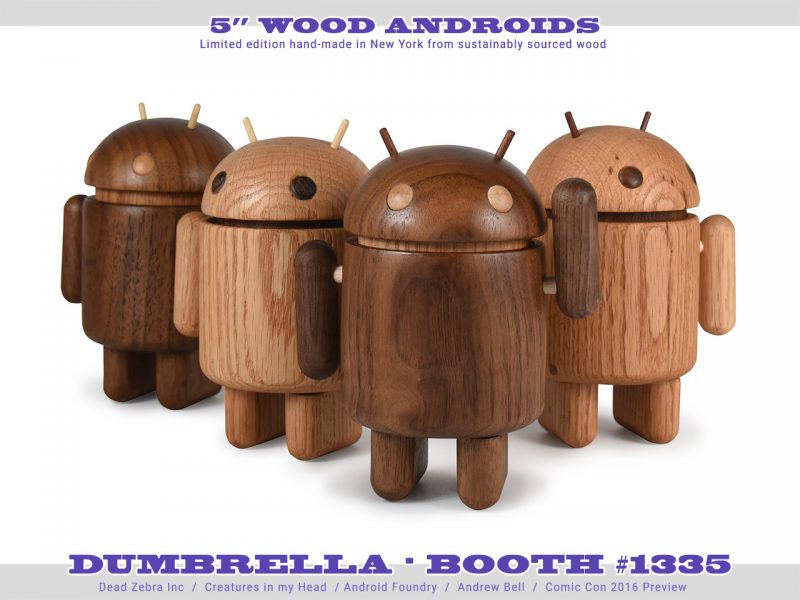 I'm happy to announce that we'll have some of these beautiful 5″ hand-made solid wood Androids available to the public for the first time ever! Started in 2012 as a collaboration with Noli-Noli Handmade,  these were previously only available as Google Executive gifts and impossible for the average collector to come by. I'll have a post dedicated to these guys tomorrow! Available for $120 each, packed in a muslin bag and custom kraft box, very limited quantities.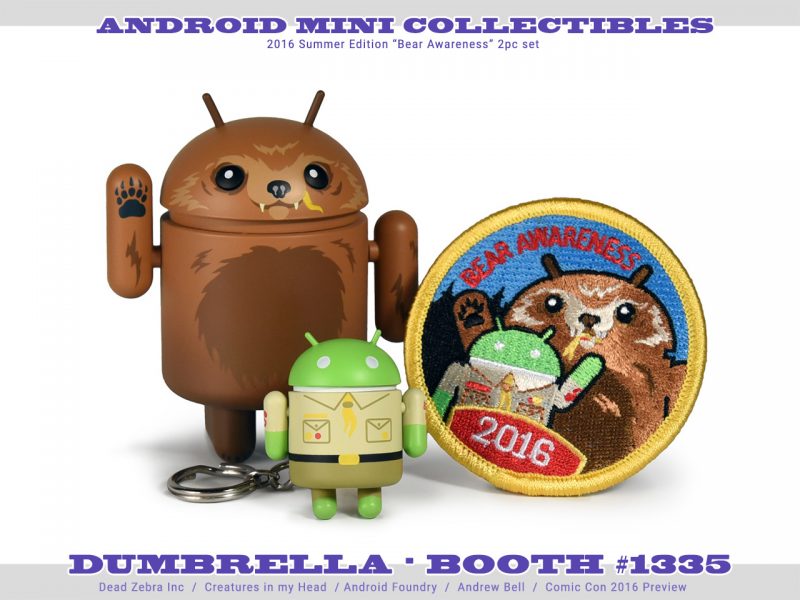 Stay aware and earn your special embroidered badge with the Summer 2016 edition "Bear Awareness" Android Mini Collectible also making its debut at Comic-Con!, this 3″ figure and 1.5″ keychain pair comes in a custom window box for $15 a set!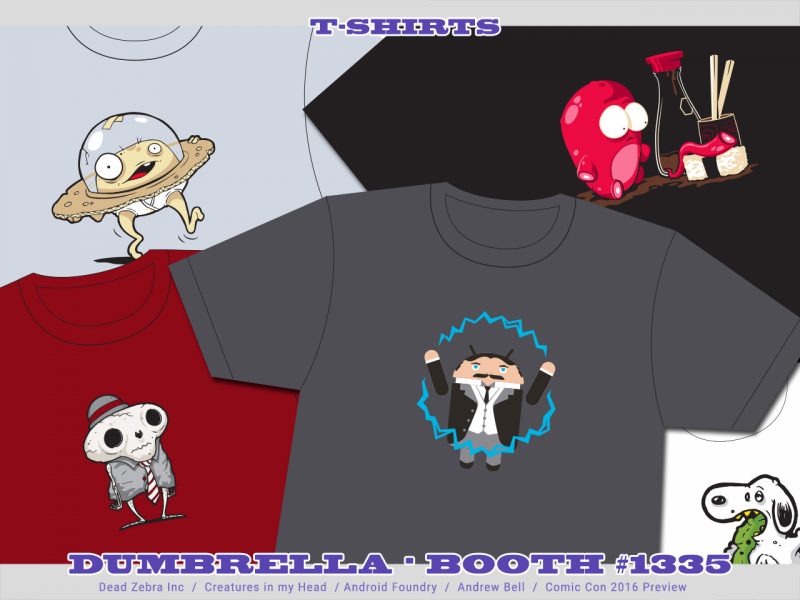 Some new shirts to cover your body with! Believe again with an adorably ugly UFO creature, control electricity with the new Tesla T, get to work with Karoshi San, sample some sushi with Lunch Special.. or maybe even piss off some peanuts fans with Snorpy! Come by and check out our selection, sizes and styles limited, $20 each.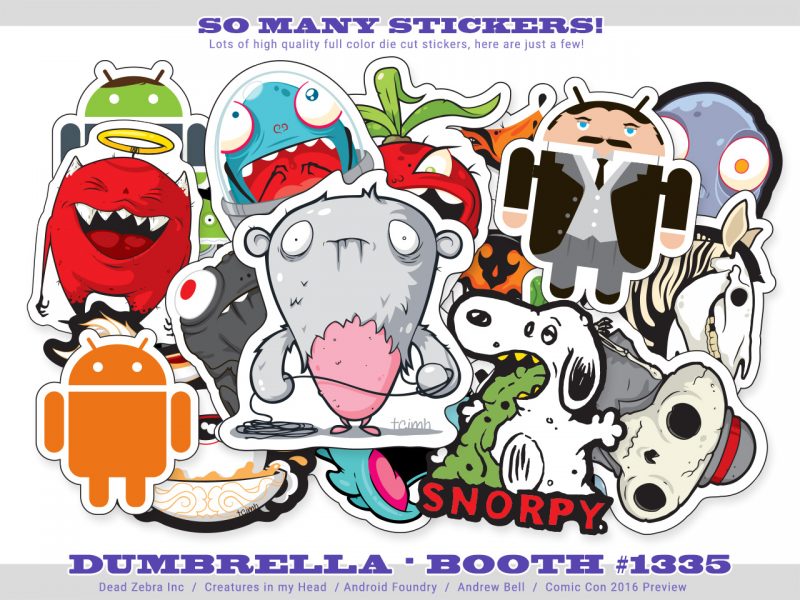 Some new stickers to cover your body with.. or whatever you want to do with them. Oh so many stickers. Full color die-cut vinyl goodness to slap on your laptops, notebooks, guitar cases, windows, cars, pets, grandparents, etc.. $1 each.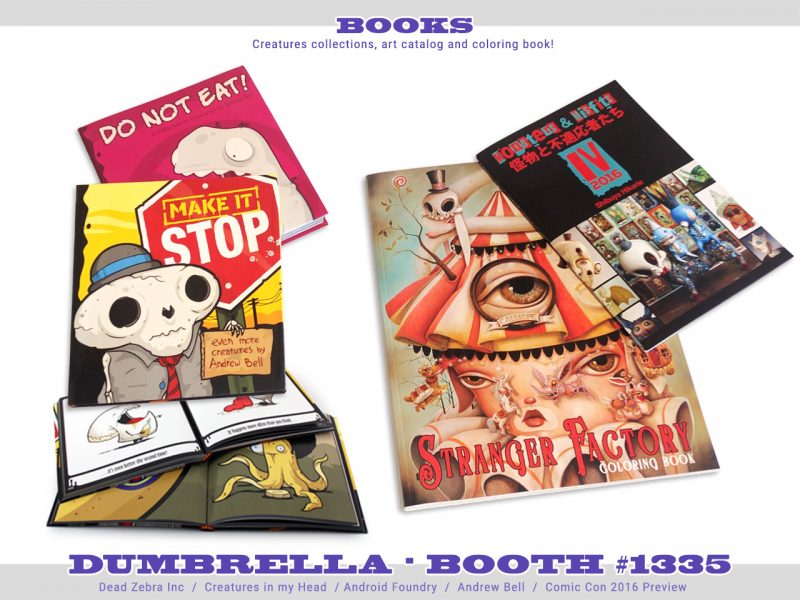 What is Comic-Con without having some sort of comic? Unfortunately it's still Comic-Con… but luckily I'll have copies of Make it Stop and Do Not Eat available to sign, along with a few copies of the new Stranger Factory Coloring Book, and our Monsters & Misfits IV exhibition catalog! Prices vary.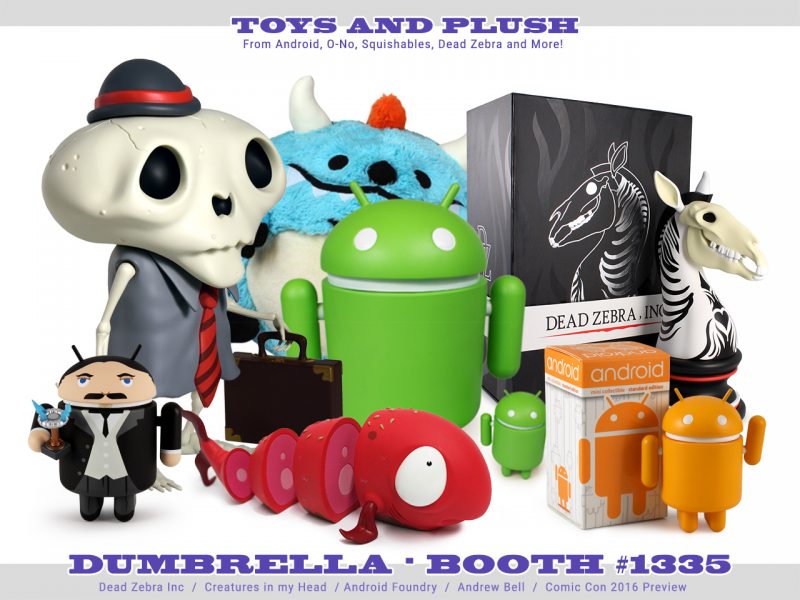 There will be a selection of toys and collections including Karoshi San, the Last Knight, Android collectibles, Worribles and more! Prices vary from $7-75, so stop by and see what's available!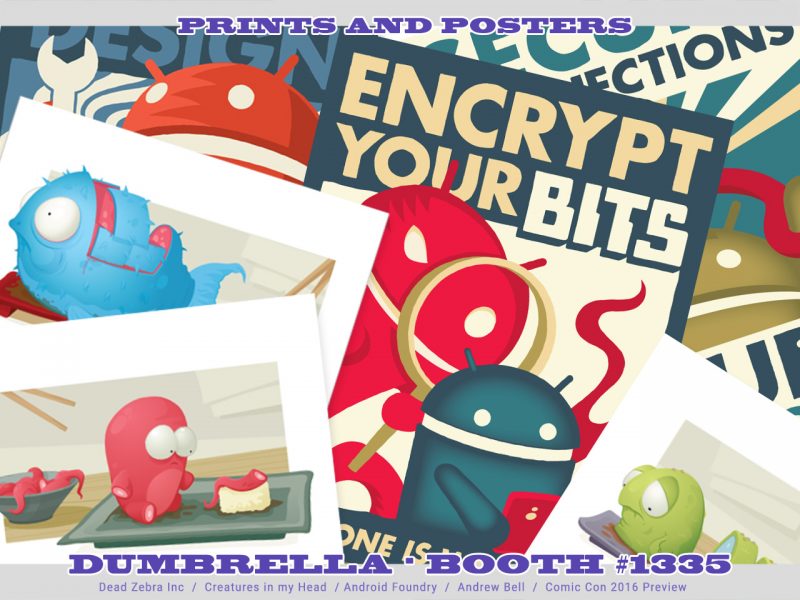 We'll also have mugs, socks, bags and more. Too many things to list here, but this should at least give you an idea and help you plan. Looking forward to seeing all your faces, both old and new.
Dumbrella, Booth #1335