It's happening! Next week once again, for the 16th year in a row (!) I'll be peddling my wares at the International Comic Con!  Find me along with my dumb pal R Stevens AND special guests Cards Against Humanity at "Dumbrella"  booth #1335 July 19th-23rd. We'll have tons of great stuff, including but not limited to my goodies below!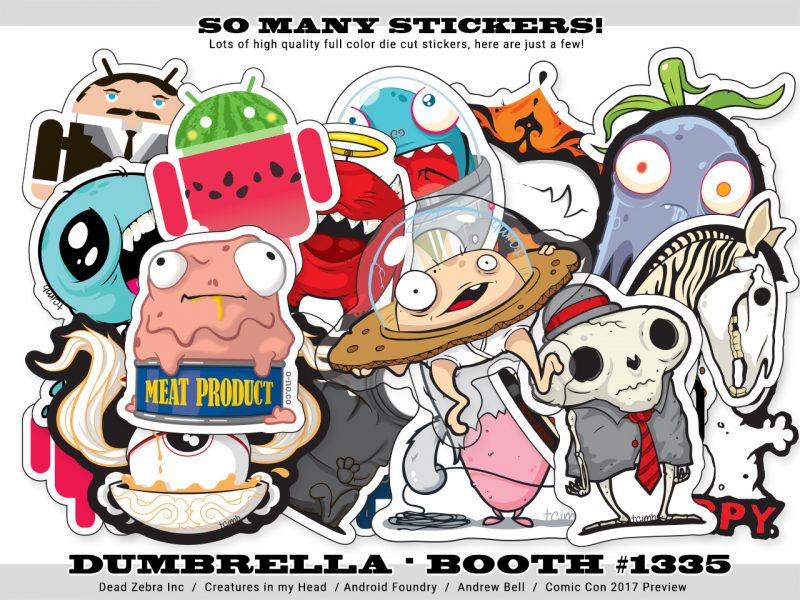 As usual there will be a wide selection of those full color high quality adhesive party slappers that some people call "stickers"! Pick one up for a buck, or get 5 for only $4!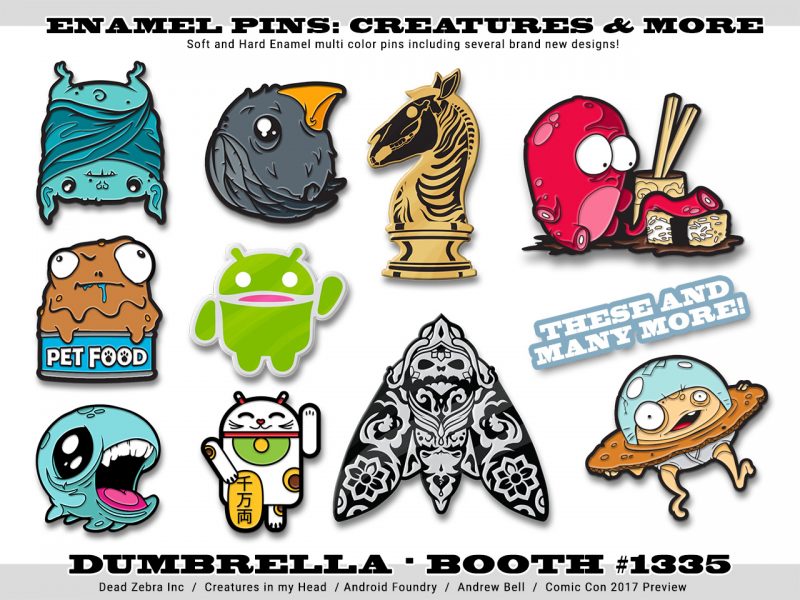 What's a Comic-Con without ENAMEL PINS? Am I right? Not to let anyone down, I'll have over 25 pin designs available including the all new Pet Food, Golden Last Knight and the return of the sold out Morimoth, now in silver. $8-10 each depending on how many you prick up!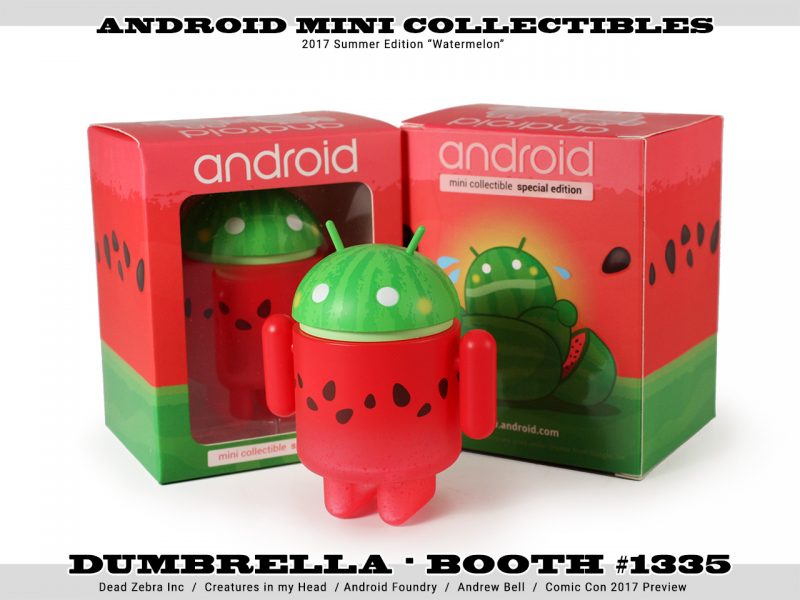 Summer means two things, Comic-Con and watermelon.. in that order. Satisfy your summer cravings with the sweet new Android Mini Collectible special edition Summer 2017 release! Featuring a translucent faded melon body and rind head, we'll have limited quantities on (sticky) hand for $10 each.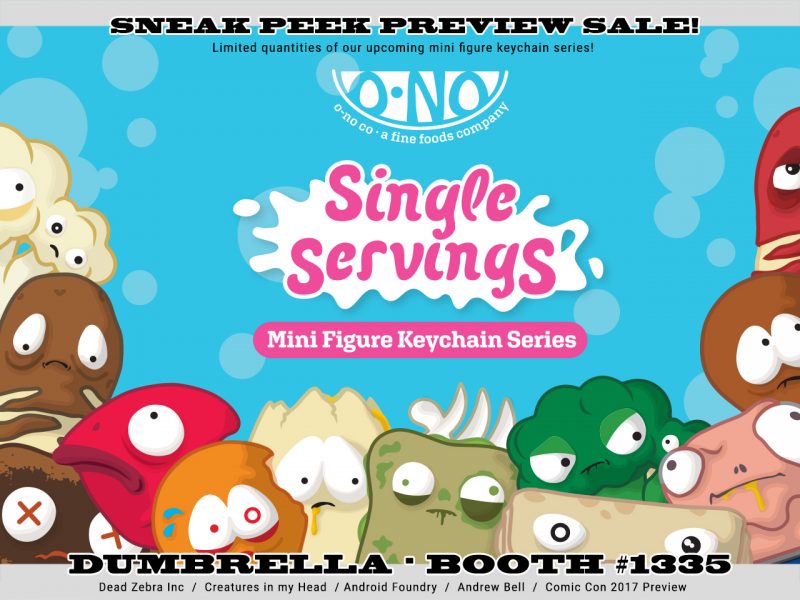 ..speaking of tasty treats, be one of the first to check out the brand new Single Servings mini figure keychain series from O-No Food Company, featuring some of the saddest selections of foodstuffs you'll ever eat*. Meet Moldy Mike, Putrid Patty, Spoiled Spencer, Peeled Peter and the rest of the crew with this special sneak peek preview release! *do not eat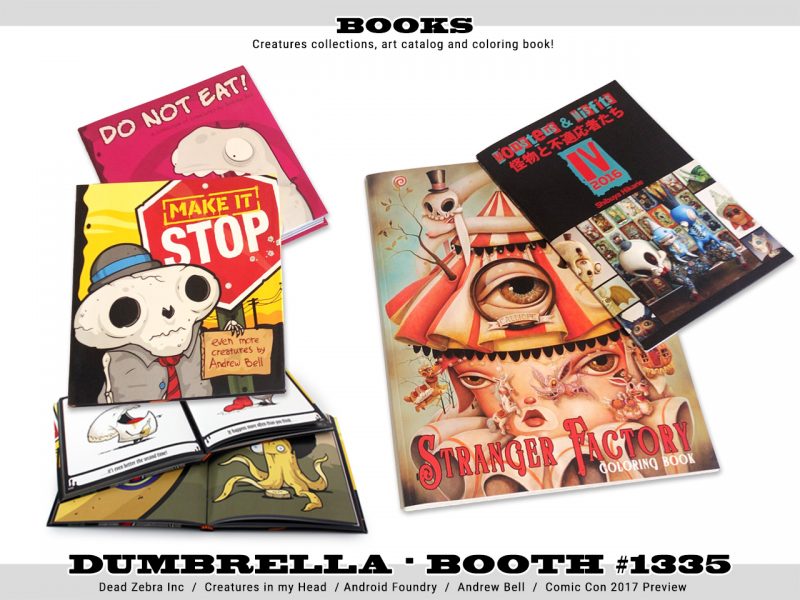 Going to Comic-Con for books filled with comic drawings?.. That's crazy talk, but I guess I'll bring a few of those anyway. I'll even draw in them for you, I think that's still allowed at Comic-Con?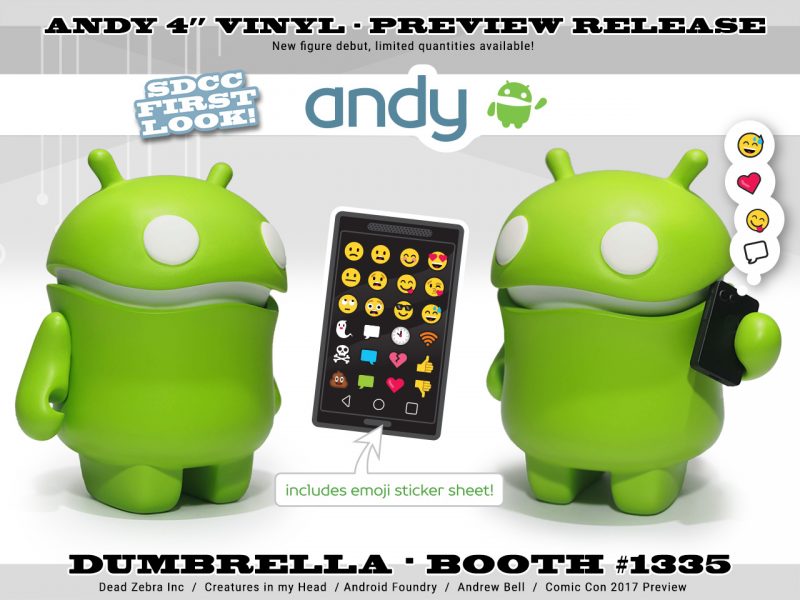 Yo, new Android. Who Dis? Introducing a new member of the Android figure family, Andy! This 4″ vinyl figure features cute lumpy lines with articulated arms and head, each figure includes a sticker sheet of emojis to decorate a tiny phone accessory! Limited quantity preview release, $12 each.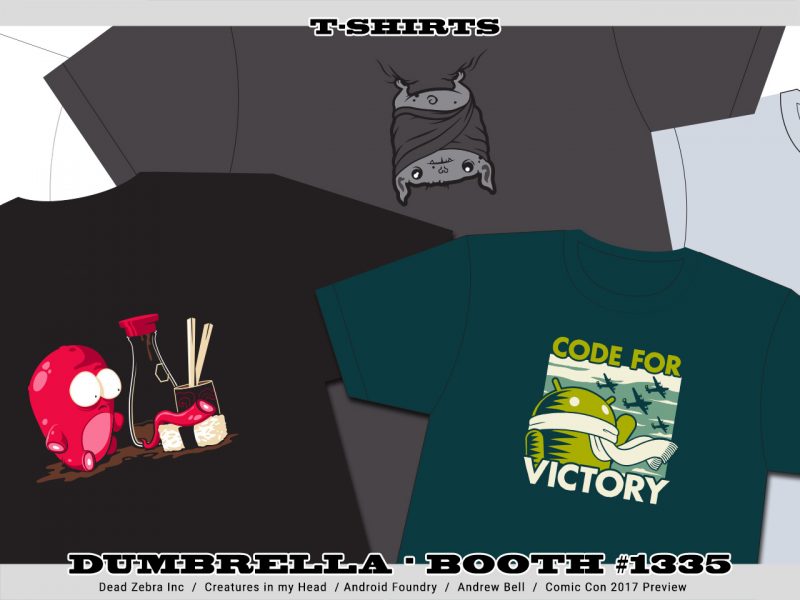 Dress yourself! A couple of new shirts sure to impress friends, coworkers and bystanders alike. Transform into bat man, dig into some sushi, or get your code on with these three designs. $20 each or 3 for $54.. or something like that!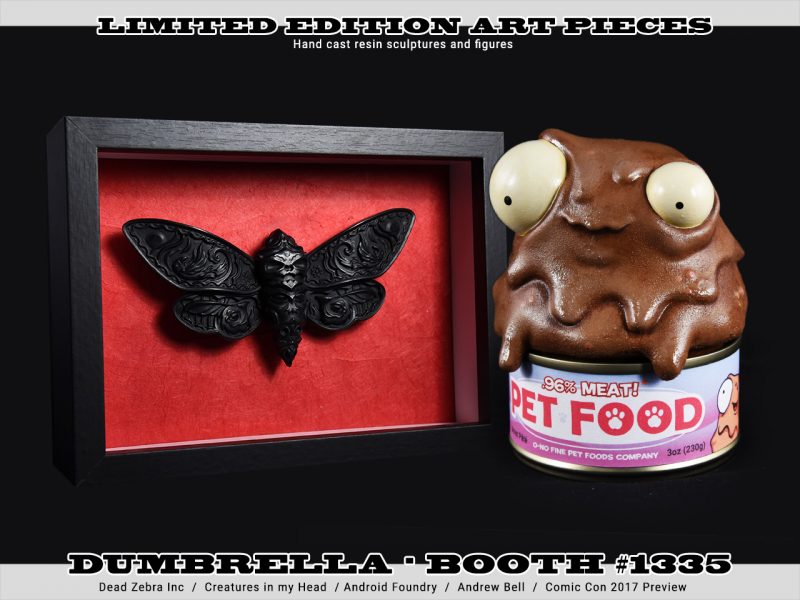 I'll have only one each of Midnight (black) and Memories Lost (bronze) moth sculptures available for $150 and $250 respectively. I'll also have a few new Pet Food resin casts, each one personally hand cast and painted for only $80 each!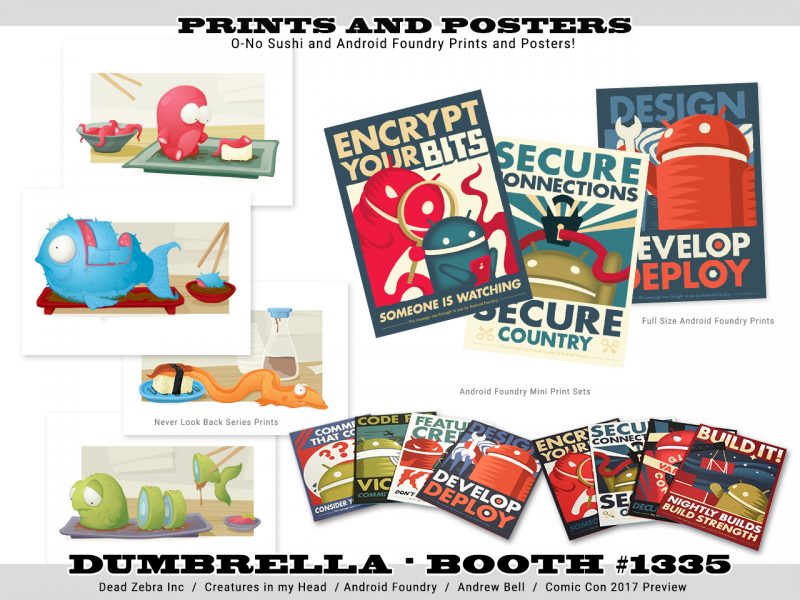 Prints! We'll have the usual lineup of Never Look Back sushi themed prints, along with a selection of our Android Foundry propaganda themed prints and the new office/cubicle friendly mini print sets! Prices vary.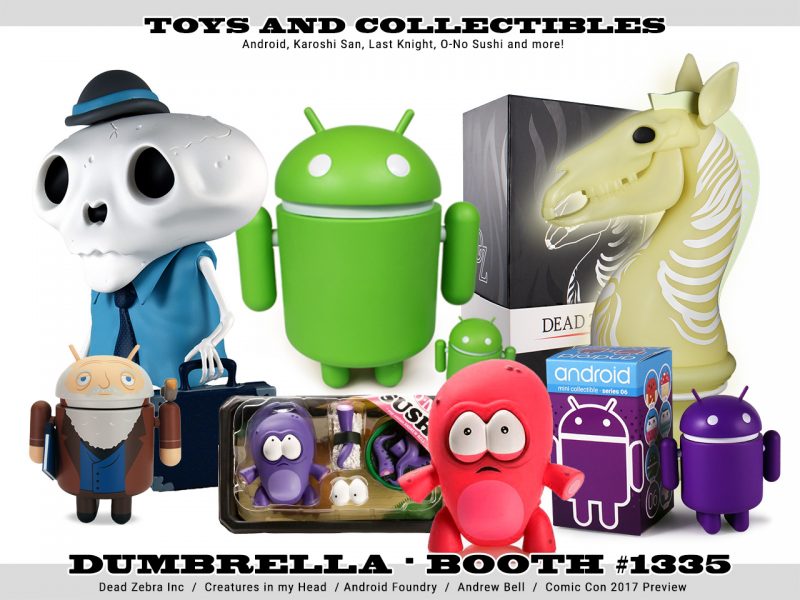 And of course we'll have some more toys, including the new Glow in the Dark Last Knight edition, O-No Sushi sets, Karoshi-San, Androids and more!
We'll also have mugs, socks, bags and other things, too many to list here, see you next week!