International Comic Con 2014 Preview!

Here's a sneak peek at just a few of the items that will be exclusive to, debuting at, or otherwise available from myself and my collaborative partners at the 2014 International Comic Con in San Diego this July 23-28th!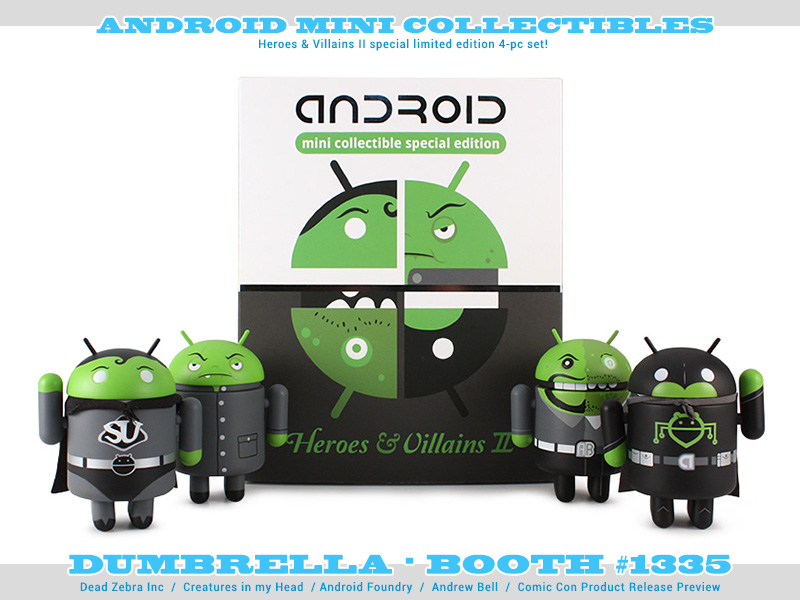 We'll have a whole bunch of Android stuff, but the real star of the show is the Android Mini Collectibles Heroes & Villains II set! The set will be available starting Preview Night with limited supplies available each day. $40, limited to 2 sets per person.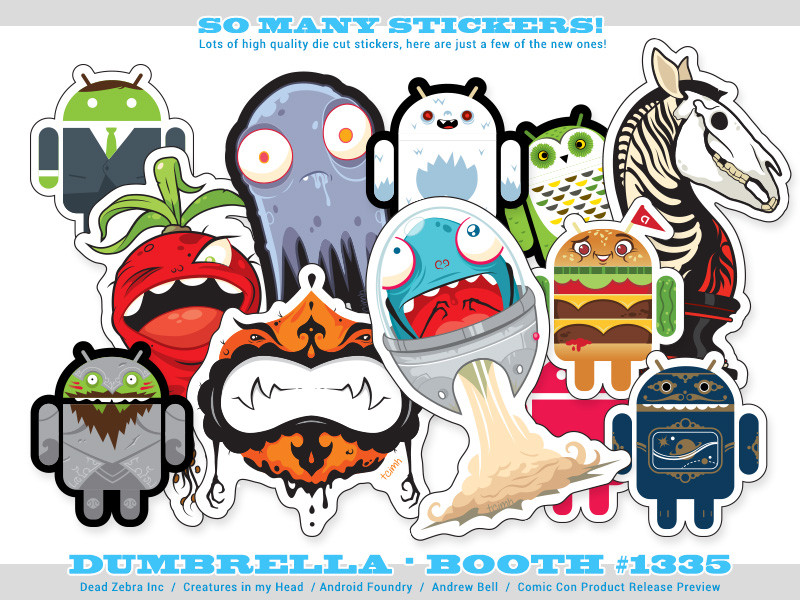 We've got a ton of new full color high quality die cut stickers, including new Creatures, a Last Knight, Androids, and more! $1 each or $4 for 5! Android Set B includes 10 mini Androids for $8. We'll also have a few huge Android wall stickers on hand!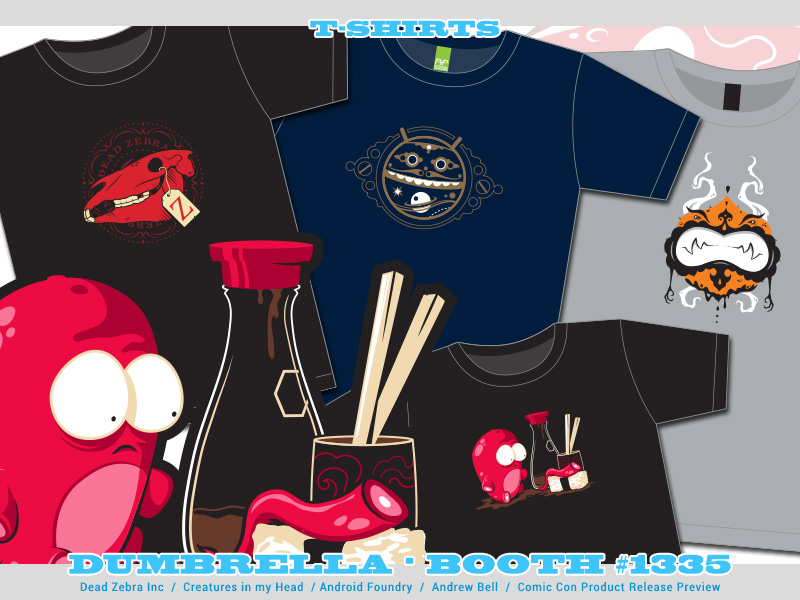 New shirt designs include super soft discharge printed Dead Zebra 'Tagged' and the oft requested O-No Sushi 'Lunch Special'! We've also got an Android 'Astronomiton' with metallic ink on navy, and a drippy Orange Dropper monster on silver. Available in S-2XL for $20 each or $17 each if you buy 3 or more.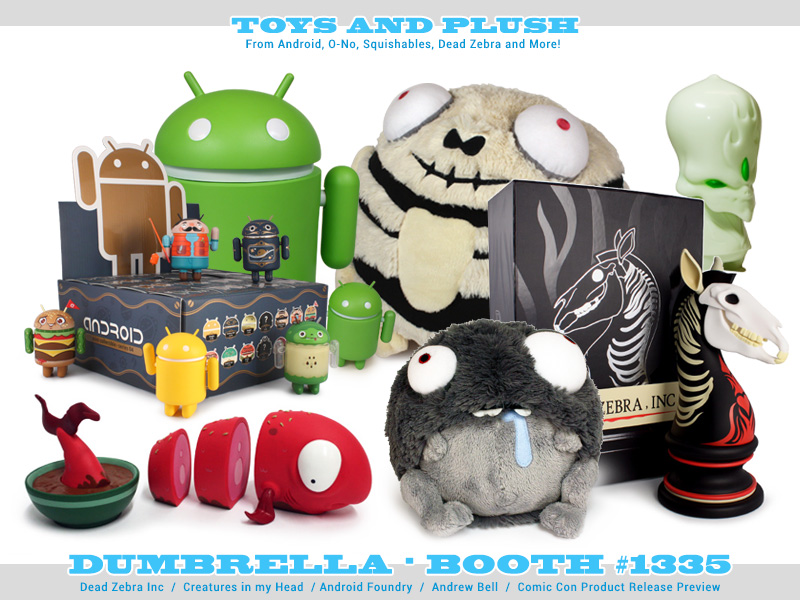 I'll be bringing an assortment of toys including some Last Knights, Squishables, O-No Sashimi, Androids and…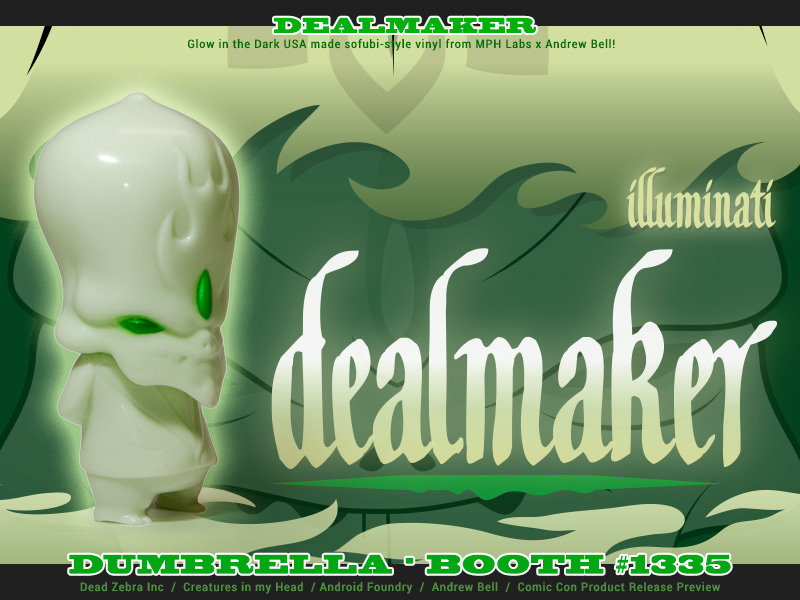 a new Dealmaker! This sofubi-style USA made vinyl figure is back with a ghostly glow! Glow in the Dark 'illuminati' edition will be available for $35 each.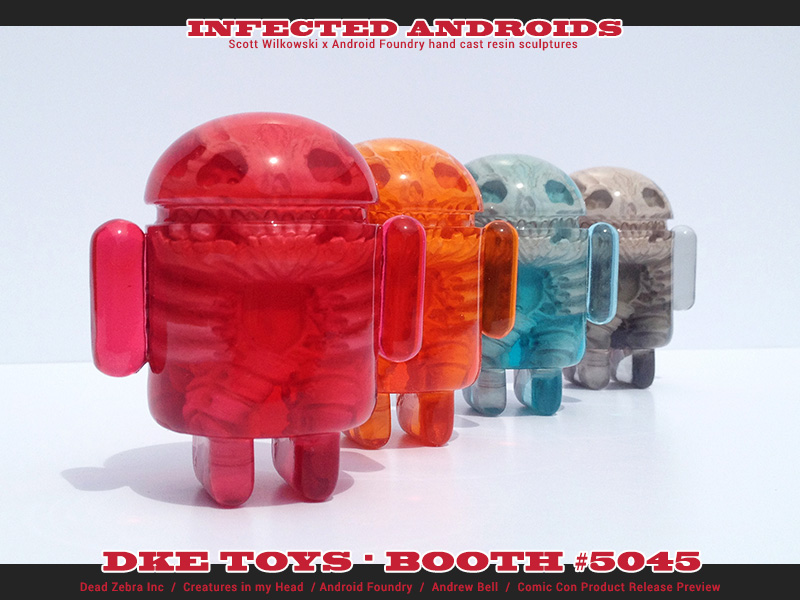 Over at our distribution partner, DKE Toys, you'll find the finally finished Infected Android sculptures! They'll have these hand-cast resin sculptures by Scott Wilkowski x Android Foundry in four different deadly colors for $70 each. Only at DKE Toys (#5045)!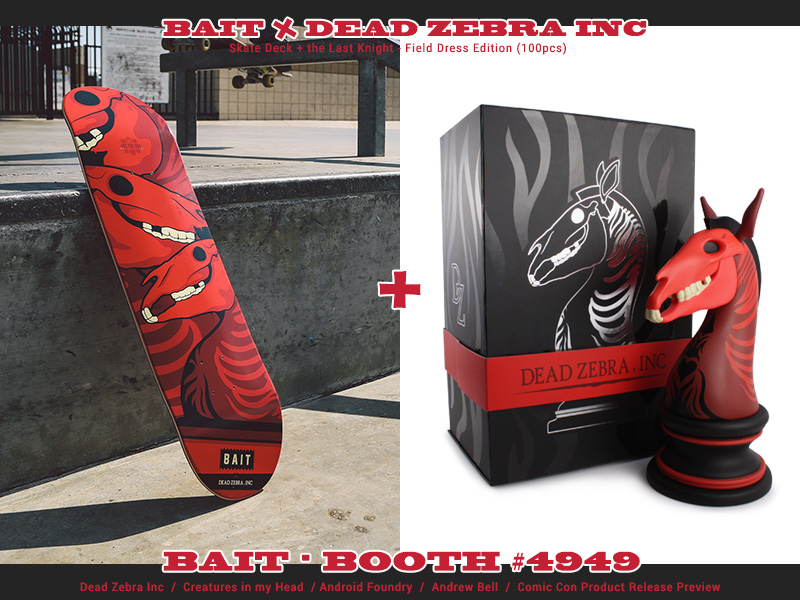 Last but not least.. Last Knight is back! Following the incredible release of the original edition (thanks!) we've teamed up with BAIT to bring you the really limited and really red 'Field Dress' edition and skateboard! The figure is hand numbered in an edition of only 100 pieces, slated to be available for $75 or for only $100 with the matching skate deck. Only at BAIT (#4949)!
Hope to see some of you there! As usual I'll be spending most of my time at Dumbrella, Booth #1335, so come on by and say hello and support the arts by picking up an item or 10!