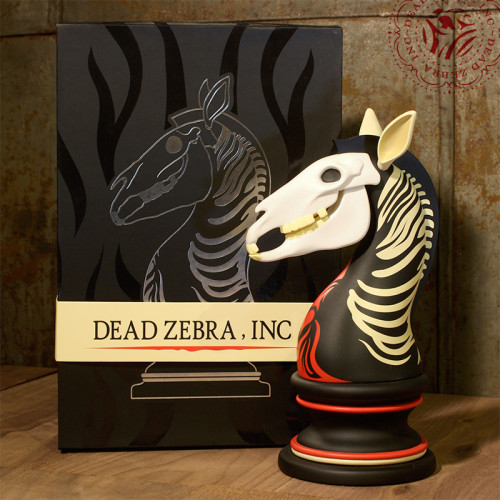 SIZE
8″ tall
MEDIUM
Vinyl
FEATURE
Articulated jaw, ears
The Last Knight embodies the design elements of Dead Zebra, Inc in the form a high quality vinyl figure of a partially deceased chess piece. Figure features an articulated jaw and ears, and high quality paint work. Each Last Knight box has an individually hand numbered band with elegant black and silver stamp artwork and a hidden magnetic clasp.
the Last Knight: Dead Zebra Edition
RELEASE
March 2014
EDITION
500
the Last Knight: Field Dress Edition
BAIT
release with matching skateboard.
RELEASE
July 2014 @SDCC
EDITION
100
the Last Knight: Blackest Knight Edition
RELEASE
October 2014 @NYCC / DCON / ONLINE
EDITION
200
the Last Knight: Classical Edition
RELEASE
February 2015
EDITION
200
the Last Knight: Greyscale Edition
RELEASE
April 2015 @WonderCon
EDITION
100
the Last Knight: Black & White Edition
RELEASE
October 2015
EDITION
200
the Last Knight: Glow in the Dark Edition
RELEASE
2017-2018
EDITION
100