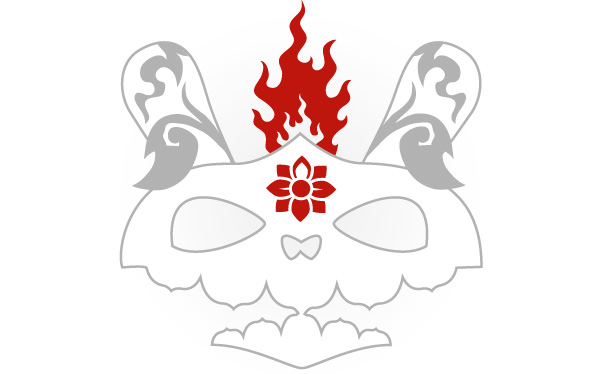 Kidrobot was one of the first companies to introduce designer vinyl figures to the US from Hong Kong, eventually developing their own original properties such as their flagship Dunny and Kidrobot mascots. Their former New York location played host to one of Andrew's first solo art exhibits, and they have been working together on collaborative projects, toys and events ever since.
Mardivale 3″ Dunny Series
YEAR
2014
EDITIONS
Reveler White, Reveler Black, Viennese, King, Swan, Jester
Lemon Drop 3″ Dunny
Orange Drop 20″ Dunny
Pyramidun

In the hands of hundreds of artists and customizers, the Dunny has constantly and repeatedly evolved into a new and exciting, yet familiar object. The Pyramidun pays tribute to the versatility of the design, while simultaneously removing itself from the base form that has defined it. It's multi-faceted form invites the collector to create their own combination reflective of their style, mood or environment.
YEAR
2013
EDITIONS
Grey, Red
FEATURES
Rotating head segments
Deeper Issues 3″ Dunny
SERIES
Dunny 2013
RATIO
Yellow: 1/20
Black: ?/???
ACCESSORIES
Wings
Mahakala 8″ Dunny
YEAR
2012
EDITIONS
"Protection"
300 (white)
"Prosperity"
??? (Black)
ACCESSORIES
Trident, Skull belt
Mahakala 3″ Dunny
SERIES
Dunny 2012
RATIO
1/40 Blue
?/?? Red
ACCESSORY
Flaming Sword
Servant of Kali 3″ Dunny
SERIES
Dunny 2009
RATIO
?/??
ACCESSORIES
Double Sickles
Kidrobot 15: KidReaper
YEAR
2008
SIZE
7″
ACCESSORY
Scythe & Cape
Pillaged Kapala Dunny
YEAR
2008
SIZE
20″
EVENT
Kidrobot NY Reopening
Dunny for Dinner
YEAR
2006
SIZE
20″ & 3″
EVENT
Kidrobot's PaintBall