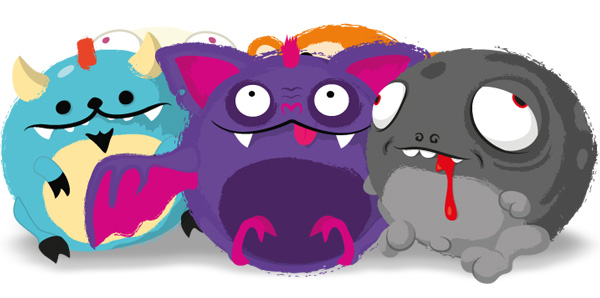 The fine folks at Squishable are best known for their huge soft cute squishy animals. We decided it was time to throw a few abominations into that mix..
Our first collaboration came in the form of Worrible, whose bulging eyes, stream of
drool and bulbous buttcheeks are the perfect combination of horrible and adorable… adohorrible?
Worrible: Dead Zebra Edition

A special bloody drool edition was created to coincide with an art show at art show at Chicago's Rotofugi gallery. We did what came naturally.. constructed a 4 foot deep pit, filled it with 100 Worribles, and let people jump in. The pit (and the Worrible) was a hit – 3 days later the pit was empty and the Worribles had new homes.

YEAR
2011-2012
EDITIONS
Mini: 250
Regular: 100
Massive: 20
Worrible: Standard
YEAR
2011-2012
SIZES
Mini (7″)
Regular (15″)
Massive (24″)
With the success of the Worrible, we once again collaborated to kick off a new line of "Oddities" in the Squishable product stable.
Deville
YEAR
2012
SIZE
Regular (15″)
Batty
YEAR
2012
SIZE
Regular (15″)
Skettle
YEAR
2013
SIZE
Regular (15″)
Fezzy
YEAR
2013
SIZE
Regular (15″)