We were fortunate enough to take home our second Designer Toy Award this past Saturday night! The first one was for Android as Fan Favorite, and this year we snagged Best Licensed Product!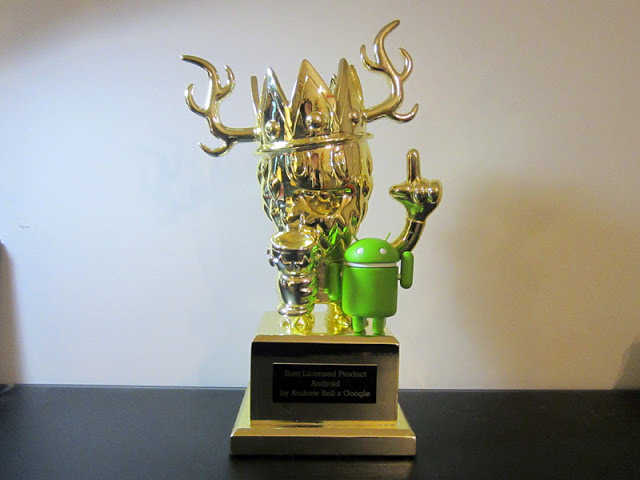 awesome award design by Pete Fowler, with little green friend..
I honestly wasn't expecting that one, we were up there with Star Wars themed nominees! Being completely unprepared, and the first award of the night (again!), I didn't have much of anything to say on stage other than a short awkward rambling thanks. I thought I'd take the time to sit down and write out a proper thank you here.
Obviously first and foremost thanks to my Android crew at Google (who I think I forgot to thank at the ceremony, oops) for continuing to be so supportive and generally awesome. Thanks to the Clutter Magazine / DTA crew for putting the ceremony and party on, it was a blast and I know they did a ton of work to get everything ready. Thanks to my peers on the board who voted for the category. Thanks to the artists who help keep things fresh. Finally and most importantly, thanks to the fans, collectors and customizers out there who continue to support the project and have taken it from "hey this could be neat.." to "…this is pretty amazing!".
Thanks!